About SchoolConsole
Welcome to the Most Preferred cloud based School Management Software in India. SchoolConsole GISPL is considered as the most user friendly management software for school which helps in connecting parents, teachers, principals and management on a single platform. Our ERP Software solutions have been implemented in more than 100+ schools spread across 10 cities for more than 6 years. Our Online School Administration Software helps in handling day to day task with an ease thus, letting you focus on what's important i.e. achieving better results. If you're looking for the best school management software then look no further because SchoolConsole is the answer to all your queries. Fully loaded with multiple automated features SchoolConsole GISPL provides next level app and cloud based solutions which helps you keep track of your daily school activities.
Whether its Attendance Tracking, Library Management, Exam Assessment, Online Fee Payment, Staff Salary Generation or just staying updated with school events via SMS, our Online School Management system does it all with seamless connectivity. There are a lot software for schools which are available but there is none like GISPL and that's why we stand at the top in Education Erp Solutions.

School Console is an Indian based consulting company which has started its operation in 2013. Started by like-minded professionals from NOIDA the company aims at offering software solutions to different industries like education, healthcare and finance. The company's ready-to-use and easy to customize software solutions are beneficial for industries of all size- and aim at enhancing clients' competitiveness and efficacy by making their work streamlined. The software solutions offered by the company are backed by knowledge of professional manpower and 24*7 customer support services.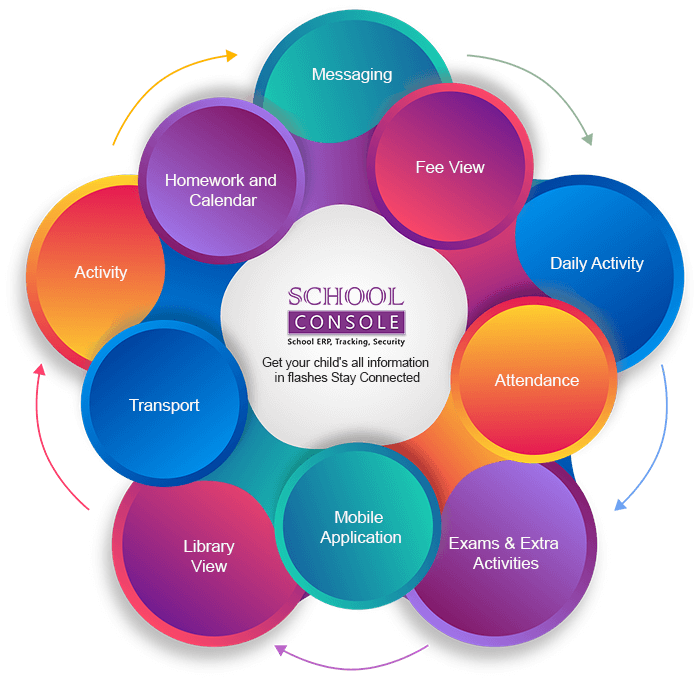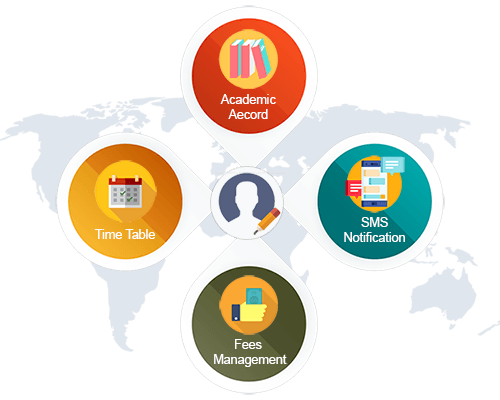 SALIENT FEATURES OF FEE SOFTWARE
Advance Management Software for Fee Collection. In just few clicks any School/Institute/college can take their students fees.
Smart Sibling Fee collection. Do not follow long process for Sibling fees take all the sibling fee in one page and print receipt in one sheet.
Design your multiple fee structure in one place.
Online Fee Payment facility available for parents with 100 % security of transaction.
Manage Check bounces penalty and fee fine with accuracy in very short time taking process.
Smart Auto Reminder for the Fees and even dues also.
Multiple reports on dashboard for quicker access like Monthly fee, Admission fee, expanses, Bank Deposit, All credit & debit report find from the dashboard.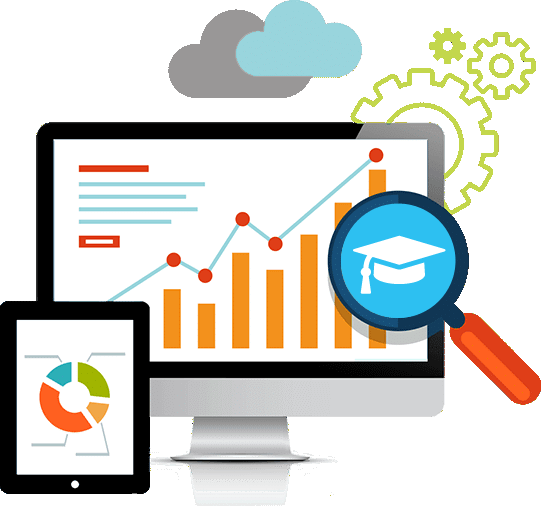 SALIENT FEATURES OF ADMISSION SOFTWARE
1. Enquiry Form for the new admission enquiry. School/Institute, colleges can maintain their enquiry and track that enquiry.
2. Smart Auto reminder for enquiry and send promotional messages facility. Completely customized admission form.
3. School/Institute/college can add or delete any field in admission form as per their requirement.
4. Automated Sibling ID Generation.
5. Powerful communication mechanism with applicants via sms, Email and chat.
6. Multiple concession options. .
7. School/Institute, colleges can assign as per student requirement or situation.
8. Multiple documents upload (related to students) in a single click.
9. Automatic SMS and Email Generate after enrollment.
10. Complete Transport Management with the integration of GPS system.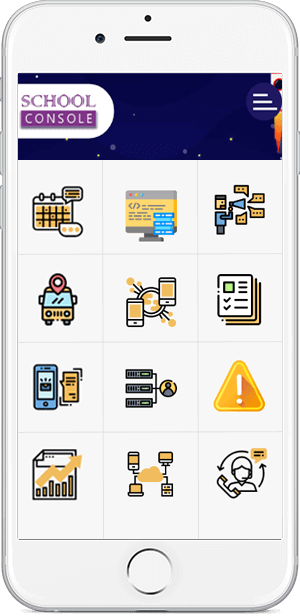 Single Plateform : Management, Teachers, Students & Parents
Parents can view attendence, pay dues fees , see student Report card, Student status , Parents can easily communicate with teacher and management easily.
Teacher can take attendence automated system of attendence to parents in school via sms.
OTP Based secuirity for parents to login in parent module. See the Home work, Assignment, parent s can easily check the improvement status regularily via this.
Management can directly interect with teacher and parents both simutaniously. Parents can easily interect with management member.
School Console ERP Features
School Console provides complete solutions for school, college and institutions.
ADMIN / MANAGEMENT
School Master
Student Master
Fee / Fine Master
Print Master
SMS / Email Master
Department / Designation Master
Session / Class / Subject / Section
User Master
Event Master
ACADEMICS / STUDENT
Enquiry
Registration/Admission
Student Promotion
Attendance
Health & Discipline
Student Portal
Activities & Projects
Assignment / Home work
TC / Bonafied / Reimbursement / ID
FINANCE / ACCOUNTS
Fee Entry
Financial Accounting
Inventory
Salary Entry
Expense Entry
Vendor payment Entry
Daily Collection
Bank Deposit
TRANSPORTS
Transporter
Transport Entry
Main Route Entry
Pick & Drop Location
Transport Fee
Transport Tracking
Driver & Conductor Assigning
EXAMINATION
Grade Master
Examination Master ( CCE Pattern )
Exam Entry
Date Sheet
Marks Entry
Report Card Generation
Topper's List
STOCK / ASSETS
Vendor Master
Add Item / Sale Group
Quotation Entry
Create PO
Purchase Entry
Stock Entry / ledger
Item / Sale Group Entry
Reports Generation
HR
PF & ESI Setting
Salary structurer
Faculty Entry
Faculty Attendance
Class In charge
Faculty Time Table
Class Meal Schedule
Salary Payment
Promotion / Termination
ESI & PF Report
Wages Reports
Employment End Report
Reports
Student Reports
Admission Reports
Fee Reports
Time Table
Student Ledger
Concessional Reports
Dues Reports
Monthly Reports
Transport Report
Transport Dues
Route Wise Report
Admin Collection
Faculty
Leave Request
Upload Assignment
Attendance Entry
Attendance Report
Faculty Attendance
SMS/Email Integration
The system automatically identifies the parents not connected with the app and sends them SMS/Email ensuring they are not left out.
Secured Data Access
Hosted on one of the most reliable servers on the cloud. Data is 128-bit SSL secured(Bank level security) and the platform has ISO 9001, ISO 27001, PCI DSS level 1& HIPAA certifications.
OTP Based Security in School Console ERP
School Console ERP ensure security of authorized person by Regd. E-mail and Red. No. which is having right person.
10+ Year
Domain Experties
100%
Customer Satisfaction
We do a lot of things while generating and collecting Fees and this software has it all to meet our needs effectively and on time.
Mr. Ram
Fee Department
I have used many software but there is not a single one providing One Window Operation on academic management.
Mrs. AnupamaBajpai
Accadmic
This is an awesome Financial Management System. It has not only helped me making important decision but also have made my life to reconcile my accounts.
Manager Finance- Indus Resource Center (IRC)
Technology Partner